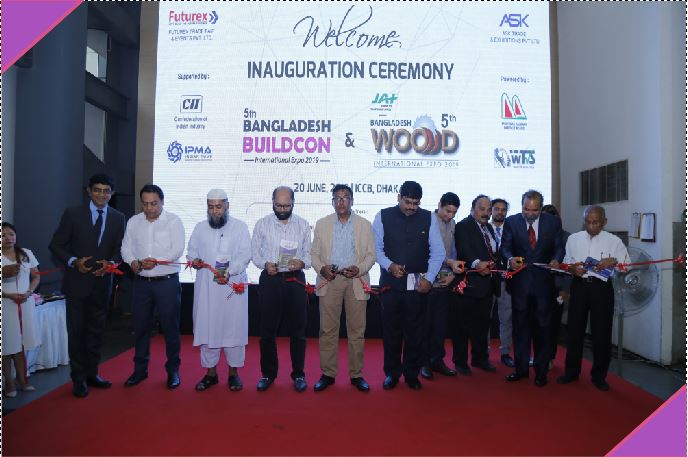 5th Bangladesh Wood International Expo 2019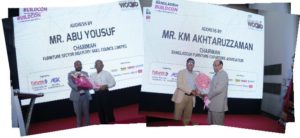 The 5th Edition of Bangladesh Wood International Expo 2019, was held from 20th to 22nd of June at International Convention City Bashundhara – ICCB, Dhaka, Bangladesh, offering the best of opportunities for Networking, Trading & Marketing of New Technologies, Latest Products and Innovations in the woodworking Industry. The Bangladesh Wood Industry witnessed an immense boost due to pre-eminent personalities and relevant industry stakeholders visiting this popular trade show concurrent with Bangladesh Buildcon with more than 250+ International & Local companies participating from 10+ countries and displayed close to 2500 products along with their technologies.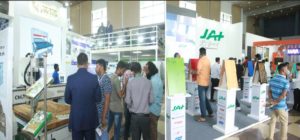 The show was jointly organized by Futurex Trade Fair & Events Pvt Ltd – India and ASK Trade and Exhibitions – Bangladesh with "JAT Holdings Bangladesh Pvt. Ltd." as the official Title Sponsor for the show and "Mohubor Rahman Particle Mills Pvt. Ltd." (Maya Ply) as the Co- Sponsor. Powered By Wood Tech Solutions.
The Expo was supported by Furniture Industries Owner Association of Bangladesh & Furniture Exporters Association of Bangladesh.
Apart from this the industry's association members, the show registered a footfall of over 9,800 business profile visitors, incorporating Furniture manufactures, architects, saw millers, plywood manufactures , Timber merchants, importers, interior designers, builders, developers, contractors, manufacturers of Wooden Products, Dealers and Distributors from the Industry.