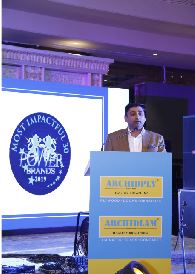 ARCHIDPLY CELEBRATED COMPLETION OF 42 YEARS AT DELHI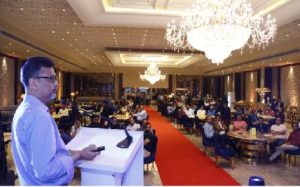 ARCHIDPLY Delhi recently organised a dealer meet at Delhi to celebrate completion of 42 years of the company and also to thank the channel partners for their support in the FY 2018-19.
It was a gathering of the who's who of Delhi NCR's Plywood trade. All the big names took out time to attend and grace the occasion. It was for the 1st time in the trade that each invitee had a dedicated table allocated to his name.
The programme started with a presentation by Mr. Ashwini Sarda Vice President Sales & Marketing who talked about the journey of the company between 1976 and 2019.
This was followed by a speech by Sri Rajiv Daga – Managing Director of Archidply Industries Ltd.
Major dealers of the company who did well were appreciated and awarded by awards like ARCHIDPLY STAR AWARD, ARCHIDPLY SUPERSTAR AWARD and ARCHIDPLY MAHARAJA AWARD.
Mr. Rakesh Aggarwal of Aggarwal Plywood and Mr. Ashok Gulati of Bhagwati Timber Shiva market got the ARCHIDPLY MAHARAJA AWARD.
A musical band played popular Hindi film songs for the rest of the evening which was appreciated and enjoyed by one and all.